A Display of Discipline
This last weekend an American tradition took place, the annual Army vs. Navy football game, two disciplined teams comprised of disciplined young men, the 116th meeting between the Navy Midshipmen and the Army Black Nights.  The game is the unofficial symbol that the regular collegiate football season has come to a close. This year Army defeated Navy. "Ok," you say, but it is a little bigger than that, Army won after losing to Navy for 14 consecutive years.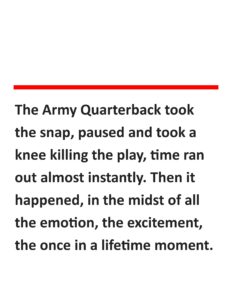 Toward the end of the game, the crowd was yelling and pulsing as the seconds clicked toward 00:00 on the clock and 14 years of losses looked to be ending.
The Army Quarterback took the snap, paused and took a knee killing the play, time ran out almost instantly. Then it happened, in the midst of all the emotion, the excitement, the once in a lifetime moment, the Army Black Knight Quarterback turned and handed the game ball to the referee. As cadets lost their minds in the stands, and players leaped to one another, in the celebration you turned and handed the game ball to the referee. The ball wasn't pitched into the air, thrown into the stands, nor did he try to keep the ball as a trophy.
Your Training showed even in the most emotional moment.
Well done Ahmad Bradshaw, Mr. Quarterback.  Training, respect for proper authority, it was a small thing, handing the ball to the referee, but it was also huge.  It showed your training is working, that order and structure are important, and the details make the difference – even after it is all over.
I suppose I am obligated to link Bradshaw's execution of discipline into some life lesson or tie it back to how you can improve your life by seeing his action, but I think I will just let the moment stand, leave it alone for what it is.
If you want a little background on Bradshaw here is a link. It is an easy 1-minute read. And it adds a little, "Whoa" factor to the story.
Ahmad Bradshaw Escapes Chicago To Play Football And Serve His Country
ttp://www.todaysu.com/fbs-independents/army-black-knights/ahmad-bradshaw-escapes-chicago-to-play-football-and-serve-his-country/
CONNECT HERE:
KRIS WILDER:
LAWRENCE KANE: