The Power of Goal-Setting
By Lawrence Kane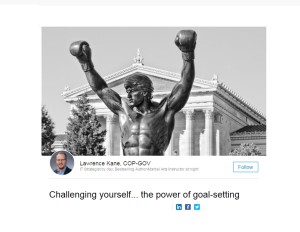 Anyone who has had some degree of success in their chosen field will eventually have opportunities to formally or informally define expectations for those around them. We could be responsible for a team or project, work as a manager or lead, or simply be an influential subject matter expert, but in every case we can define a vision for ourselves as well as those around us. It's a heavy responsibility and simultaneously a wonderful opportunity.
A Scary Proposition
 As the old saying goes, people seldom hit what they do not aim for. Given the right opportunity, most folks will step up (or sadly down) to expectations. This means that setting lofty yet achievable goals affords us an opportunity to grow. Unfortunately this can be a scary proposition for many. Setting a high bar and falling short is often perceived as failure, but let's face it, not setting challenging goals more often than not means that we've failed simply due to lack of effort.
When we set a good example many will want to emulate our approach, but depending on the culture we work in and the education and experience of those around us that's often not enough. Even the most intrinsically motivated individuals in the world cannot achieve what they do not know how to accomplish, so it's far better to take an active role. Setting high expectations for ourselves and others and making them obtainable through coaching or mentoring helps those in our care grow into the space that we have defined.
 If we set a small space folks will only grow to the edge of it. In other words, with rare exceptions folks will only grow as big as the vision and expectations that are set before them. This can apply to any aspect of our lives. For example, if our children envision college from a very early age, chances are good that they will make it there one day. If our employees see themselves on a career path they are far more likely to continuously acquire skills and experience necessary for success than someone who has merely found a job. You get the idea…
By setting low expectations we get low results, but by setting high expectations we can reach for much more. Success is never assured in any endeavor, but with the right goals and coaching we can rest assured that the folks around us will have a real chance to accomplish something great.
Make It Real
Terrific principle, but without a mechanism to "make it real" this can be tough. The good news is that there is a tool for doing exactly that, the SMART goal-setting process. It has been around for a very long time and is widely adopted in Fortune® 500 companies because it works so well. The acronym SMART stands for (1) Specific, (2) Measurable, (3) Achievable, (4) Relevant, and (5) Time-bound. Here's how it works: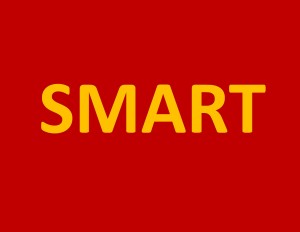 Specific: the goal is stated in precise terms and describes a deliverable or outcome. A specific goal has a greater impact than a general objective and is not only much more likely to be accomplished, but easier to know when you have done so.
Measurable: what gets measured gets done. Progress toward the goal can be tracked using standards, specifications, milestones, and the like such that you know when/if you have met it. 
Achievable: the goal provides a motivational stretch so that it is a challenge to accomplish yet possible to achieve. If a goal is too far out of reach, you may become discouraged hence unable to maintain the energy or commitment necessary to achieve it. In such instances carve the end game into manageable chunks and set those smaller goals along the path to success.
Relevant: Tying the goal to something that is important to you will help assure a wholehearted commitment toward achieving it. The goal must also be aligned with the team or organization's purposes such that the individual's aspirations support the larger effort and not move at cross-purposes. This is vital not only for teaming, but also for acquiring necessary support and resources.
Time-bound: Tracking your progress over time assures forward momentum and builds in the opportunity to celebrate wins and/or course-correct along the way. The goal should include milestones that determine whether or not you are making progress against a reasonable schedule.
Using the process to define goals for ourselves and others is great, simply writing things down and telling others about it adds accountability and impetus toward action, but it doesn't mean much if we don't check back from time to time to make sure that we stay on course. That's why it is important to track our progress and meet regularly to discuss how things are going so that we can adjust as necessary to stay on course. This is where the SMART process, when put in place with forethought and planning, is very powerful.
To learn more please take a look at my book Sensei Mentor Teacher Coach: Powerful Leadership for Leaderless Times: http://www.amazon.com/Sensei-Mentor-Teacher-Coach-Leadership/dp/1495407160