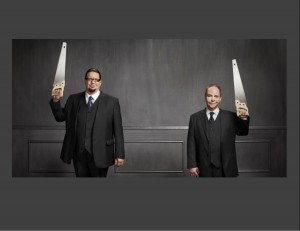 Accepting the answer, "No," and just moving on, not getting what you need or want has become de rigueur. 
Accepting the answer, "No" is the correct thing to do in many situations, such as where life or limb is in jeopardy, be it yours or somebody else's. But what about the bureaucratic official that says, "No," And just says no because, "We don't do it that way."
The other reason could be that in saying no, not an ounce of sweat is spent, no effort is expended, no calorie burnt.  Not expending energy is the nature of people.  We are predators by nature (see the eyes set forward on the head and not on the side) and when our needs are met, we sit down and conserve energy. 
I suggest your job is to expend your energy, and take the No People along with you.  Yes, you are responsible for a double expenditure of energy, yours and the carrying the No People. This double expenditure is rewarding and great.  You are not out to educate the No People, not at all, that will kill you, and they are content anyway. But do get them out of the way, or drag them along without their knowledge.
The technique is really simple – exercise your grit and stir in a bunch of courtesy.
There is no secret technique such as, "Do this move with your hands and the No People will acknowledge your brilliance and help you meet your goals." Not at all, grit is something that the No People do not understand.  When they see grit, it is as if Penn and Teller landed in the Parliament Funkadelic mothership and made the moment magically happen.  
Grit is that far from their experience.
As the opportunities present themselves, feel free to demonstrate courtesy and grit in the area of the No People, pleasantly pull them along. The results will be fascinating.
Do me a favor.  Apply the dual application of courtesy and grit for a week at your work, and then drop me a line at, thedojo@quidnunc.net tell me about how it worked for you so we can share the moment, success and maybe a tip or two. 
I look forward to hearing from you as you lay down the half caf double mocha of grit and courtesy as if you are Penn and Teller with a dash of Bootsy Collins (Bootsy, the bass player from Parliament)
Kris Wilder, is a martial artist from Seattle Washington, the owner and head instructor at West Seattle Karate Academy, he has written some ten books on martial arts, and leadership. Kris travels internationally giving seminars on martial arts.  He is also a member of Order of St. Francis.
YOUTUBE  TWITTER  MAIL  GOOGLE+  FACEBOOK
Glossary of fun stuff